BGB Podcast #167 – Cleanin' Out My Closet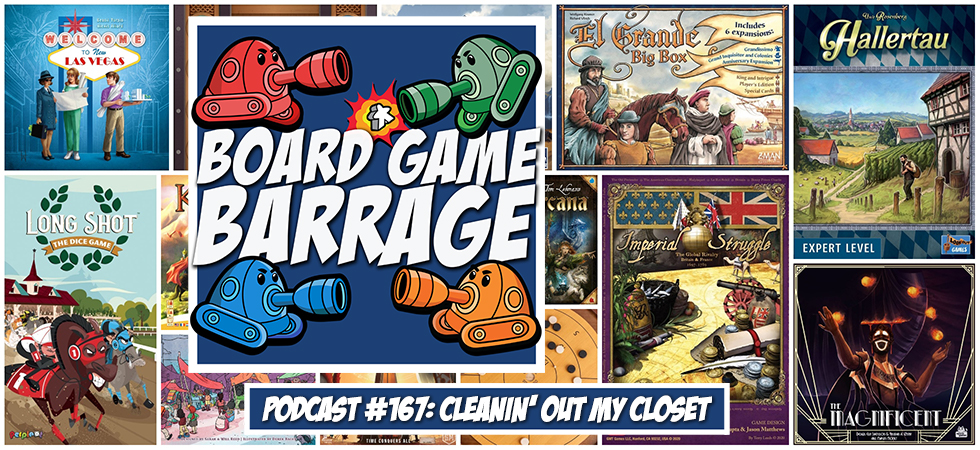 It's spring cleaning time.
As important as it is to talk about that which we have received, so must we mark the loss of the games whose time has passed. Board games leave our collections for many reasons, so we're going to revisit the ones that found better homes in the past year. Before we press F, we talk about Long Shot: The Dice Game, Hallertau, and Welcome to New Las Vegas.
If you don't want to miss an episode, please subscribe on iTunes/Google Podcasts/Stitcher/Spotify, or add our RSS feed to your favourite app. Reviews and subscriptions really help us and would be greatly appreciated! To download the episode directly, click here.
If you'd like to discuss anything in the episode, please do so in the comments below, visit our BoardGameGeek guild, join our Discord, or Facebook Group! Any feedback is also always helpful. If you'd like to show your support for the show, we also have a Patreon with some fun rewards, and a merch store!
Timecodes:
02:43 – Long Shot: The Dice Game
09:30 – Hallertau
20:04 – Welcome to New Las Vegas
28:43 – Games We've Recently Let Go
29:34 – Res Arcana
30:20 – Seasons
31:58 – War Chest
33:04 – Oaxaca: Crafts of a Culture
33:35 – Kingdom Builder
35:11 – Pendulum
37:44 – Nētā-Tanka
38:00 – Nevada City
38:33 – The Magnificent
41:05 – Ethnos
41:24 – Crokinole
42:49 – El Grande
45:00 – Imperial Struggle
45:53 – Iwari
48:41 – Through the Desert
49:25 – Lords of Hellas
50:27 – Troyes
51:11 – Watergate
Thank you to Heart Society for generously letting us use What's On Your Mind, Kid? from their album Wake the Queens.