BGB Podcast #96 – The House of Bounce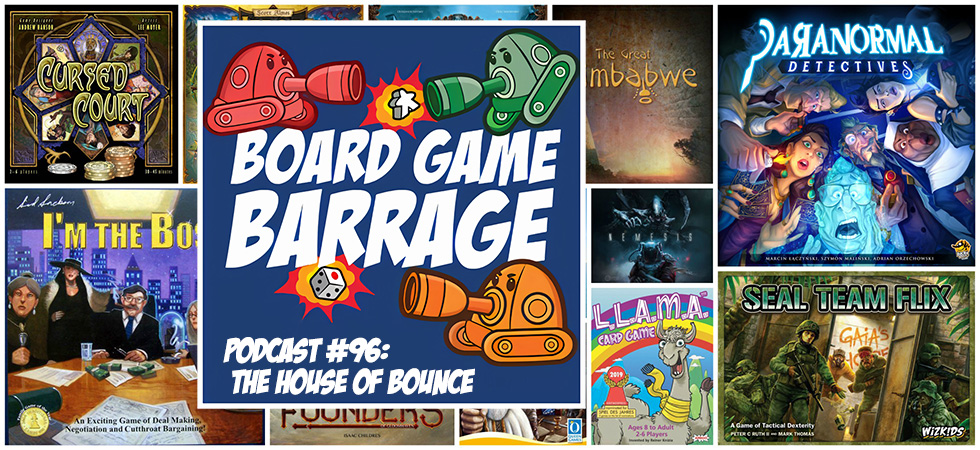 Boing.
Uh oh, you're not enjoying the game you're playing. Now what? Is it okay to excuse yourself? Maybe it's better that you just call it rather than continue to have a bad time. This week we're talking about scenarios where some or all of the players of a game might decide it's better to bounce than to wallow in misery. Before we make an early exit, we talk about SEAL Team Flix, Paranormal Detectives, and I'm the Boss.
We're still looking for feedback to close out 2019, if you'd like to answer a quick poll to help guide the next year of the podcast, please click here!
If you don't want to miss an episode, please subscribe on iTunes/Google Play/Stitcher/Spotify, or add our RSS feed to your favourite app. Reviews and subscriptions really help us and would be greatly appreciated! To download the episode directly, click here.
If you'd like to discuss anything in the episode, please do so in the comments below, visit our BoardGameGeek guild, or join our Discord! Any feedback is also always helpful. If you'd like to show your support for the show, we also have a Patreon with some fun rewards!
Timecodes:
01:21 – SEAL Team Flix
10:32 – Paranormal Detectives
18:53 – Mysterium
21:37 – Crokinole
22:12 – Cursed Court
23:27 – I'm the Boss!
31:50 – Bouncing off Games
33:49 – Menara
36:37 – Cosmic Encounter
38:45 – The Great Zimbabwe
39:40 – Megacity: Oceania
40:25 – Founders of Gloomhaven
43:52 – Diplomacy
45:22 – Swinging Jivecat Voodoo Lounge
46:08 – Merlin
47:00 – Heroes of Land, Air & Sea
48:54 – LLAMA
49:33 – Nemesis
Thank you to Heart Society for generously letting us use What's On Your Mind, Kid? from their album Wake the Queens.