BGB Podcast #170 – Friedemann Friese Frenzy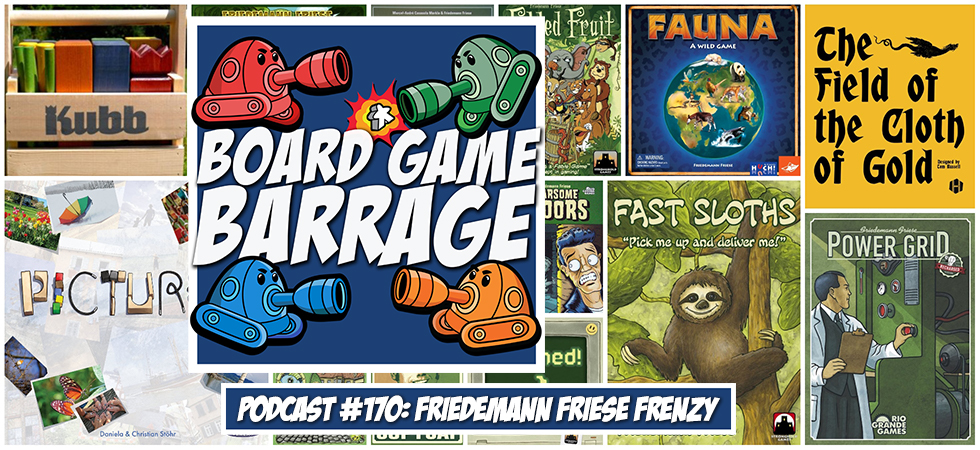 We love Friedemann Friese, so much so that we're devoting a whole episode to the green-haired designer – a comprehensive look back at his contribution to the hobby, and how we've gotten on with his games over the years. If you've never played one of his games, let us help correct that. Before we give the fantastic fellow our full focus, we talk about Kubb, Pictures, and The Field of the Cloth of Gold.
Vote in the Golden Geek Awards!
If you don't want to miss an episode, please subscribe on iTunes/Google Podcasts/Stitcher/Spotify, or add our RSS feed to your favourite app. Reviews and subscriptions really help us and would be greatly appreciated! To download the episode directly, click here.
If you'd like to discuss anything in the episode, please do so in the comments below, visit our BoardGameGeek guild, join our Discord, or Facebook Group! Any feedback is also always helpful. If you'd like to show your support for the show, we also have a Patreon with some fun rewards, and a merch store!
Timecodes:
03:20 – Kubb
08:20 – Pictures
16:12 – The Field of the Cloth of Gold
23:39 – Golden Geek Awards
25:24 – Board Game Barrage vs. Shut Up & Sit Down!
27:44 – Friedemann Friese
29:17 – Power Grid
36:21 – Copycat
37:11 – 504
38:43 – Fearsome Floors
39:43 – Fauna
41:22 – Friday
42:03 – Fabled Fruit
43:41 – Fast Sloths
44:27 – Fresh Fish
45:46 – Finished!
46:20 – Funny Friends
Thank you to Heart Society for generously letting us use What's On Your Mind, Kid? from their album Wake the Queens.